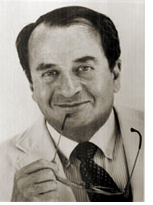 GERARDO JOFFE is a native of Germany. He spent his young manhood in Bolivia, where he worked for eight years in the tin, tungsten, and antimony mines of that country. At a young age, he became chief engineer of the Colquiri Mine, which was then the second-largest tin mine in the world.
He worked in the mines of the tristate area of Missouri / Kansas / Oklahoma and in the Idaho panhandle and for seven years in the oil fields of Arkansas/Texas/Louisiana.
He has a degree in mining engineering from the University of Missouri at Rolla and is a professional engineer. He has an MBA degree from the Harvard Graduate School of Business Administration. He has a law degree from La Salle Extension University.
Joffe is the founder of Haverhills, one of the country's best-known, most innovative, and most successful mail-order houses. He sold that business several years ago to a Minnesota corporation. He now presides over Jomira/Advance, a small mail-order company and publisher. He is also the founder and president of FLAME (Facts and Logic About the Middle East), a national Israel-advocatory educational corporation, with more than 25,000 donors.
Joffe is the author of How You Too Can Make at Least $1 Million (but Probably Much More) in the Mail-Order Business — a standard textbook in the industry that went through eight printings. He has also authored a seven-volume course on the mail-order business, How to Build a Great Fortune in Mail Order. He is the author of Anagraphics, a book of word puzzles of his creation.
Joffe's best seller, How You Too can Develop a Razor-Sharp Mind and Steel-Trap Memory is now in its fifth printing. It does for the mind what working with weights does for the body.
Joffe's newest books, Weaned on Carrot Juice, his autobiography, deals with his experiences in Nazi Germany, and as an engineer in the tin and tungsten mines in Bolivia, and his adventures and exploits in business and philanthropy in the United States. This book is available through the publisher, Advance Books, 470 Third St., Suite 211, San Francisco, CA 94107-1292 (You may order by mail or, with your credit card and exp. date, by Fax: 415/356-7804, or by E-mail: kadeemah@aol.com. The reduced price for FLAME donors is $24.95 + $4.95 S/H. Part of the proceeds go to FLAME.).
Joffe is married, has two living children and four grandchildren. He and his wife Priscilla live in San Francisco.
For reference to Gerardo Joffe's books in print, log on to www.jomirabooks.com.