Why should you make a donation to FLAME?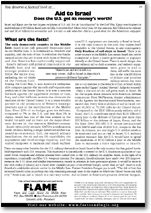 How many times have you heard someone lament that Israel doesn't have good public relations? By supporting FLAME, you help one of the world's most powerful information efforts to spread the truth about Israel and the Middle East conflict. Please note that because FLAME is a non-profit 501(c)(3) corporation, your donation is tax-deductible.

By supporting FLAME, you help fund our ads in national media, like U.S. News and World Report The New York Times, The Nation, The National Review, The American Spectator, The Washington Times National Weekly, and others. You help publish our messages in Jewish publications, both in the U.S. and in Israel, among them The International Edition of the Jerusalem Post. Finally, your donation helps us publish our messages monthly in over fifty small-town newspapers, all across the United States and Canada.


For more information about how your donation helps spread the truth about Israel and the Middle East, please review our most recent acquisition letter. Just click here. >>