Palestinian Genocide?
A Black Lives Matter platform accuses Israel of genocide. The assertion is false, it's racist and it sabotages efforts to achieve justice for African-Americans.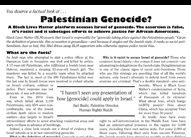 This ad, providing the facts concerning this issue, appeared in media reaching 10 million people nationwide.
WEEKLY UPDATE
From the FLAME Hotline
THIS WEEK:
UNESCO Declares the Temple Mount a Purely Muslim Holy Site &—Rebukes Jews and Christians
LAST WEEK:
President Obama Tells the United Nations: "Israel Cannot Occupy Palestinian Land."  (Good News—It Doesn't!)

PR FOR ISRAEL
U.N. School for Terrorism
UN-sponsored schools for Palestinians—supported by $400 million a year from U.S. taxpayers—teach children to kill Jews and wage holy Islamist war
What Is Disproportionate Force?
Though every armed conflict kills civilians, all civilized nations try to avoid this. So why has Israel been accused of using too much force in Gaza in 2014?
SUBSCRIBE FREE

Sign on to receive FLAME Hotline E-Alerts
If you support Israel, you'll love these weekly emails. Each week you receive a quick analysis of one key development in the Middle East—so you can help your friends and colleagues understand the truth about Israel.
DONATE NOW
Why Donate to FLAME?
FLAME is an educational non-profit dedicated to distributing paid public relations messages in media that reach some 10 million readers, including college students, every month. Our goal is to expose false reporting about the Middle East that might harm the interests of Israel and the United States. By donating, you make it possible for us to continue distributing these monthly hasbarah—clarifying messages of fact and truth. Please support us today.
Are you tired of hearing that Israel doesn't have good PR? Discover what some ardent supporters of Israel are doing about it.
December, 2015
Dear Friend of Israel, dear Friend of FLAME,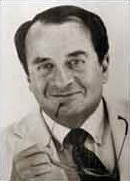 Because I know you care passionately about Israel, I want to update you on Israel's unfair treatment by mainstream media in recent months, as well as bold efforts to combat Israel's alleged "poor PR."
But first, let me recap quickly the truly frightening situation in Israel right now.
As you know, ordinary Israelis have been victims of scores of brutal knife, stone, gun and car attacks mounted by Palestinian terrorists over the past several months. At least twenty innocent Jews have been murdered in cold blood, and hundreds more have been seriously injured.
Just imagine the horror if you lived in Israel right now—the threat of death or maiming to you and your loved ones every time you leave the house.
Even more chilling, these terror attacks are encouraged by incitement from Palestinian leaders, who